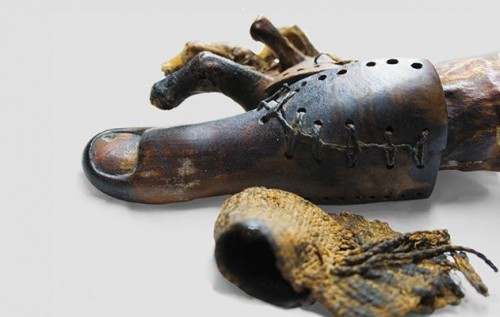 Archaeologists have recovered a three-jointed set of prosthetic toes attached to a mummy in Egypt. Due to its age, this object is likely the oldest known prosthesis. From a 2007 Live Science article:
Archaeologists speculated the 50- to 60-year-old woman the prosthesis came from might have lost her toe due to complications from diabetes.

The wood and leather prosthesis dates from 1069 to 664 B.C., based on artifacts it was found with in the mummy's burial chamber. This means it predates what was previously thought of as the earliest known functioning prosthesis, the Roman Capua Leg, a bronze artifact dating from about 300 B.C. The leg was once at the Royal College of Surgeons in London but was destroyed by bombing during World War II.
Link via First Things | Photo: University of Manchester