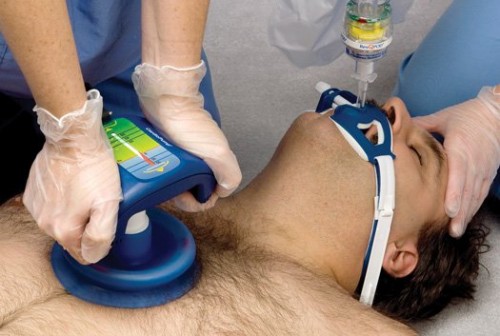 After one man went into cardiac arrest and his family successfully performed CPR on him with a toilet plunger, Advanced Circulator Systems developed the ResQPump. It's a machine that regulates chest compressions and airflow during the resuscitation process:
According to a study published in The Lancet this winter, the ResQPump, which is used for chest compressions, and the ResQPOD, which prevents too much air from entering the lungs during CPR, could increase certain cardiac-arrest victims' chances of survival by 50 percent.

The ResQPump works like a toilet plunger, but while decompressing it can draw air back into the lungs. The ResQPOD, cleared by the FDA in 2003, regulates airflow by creating suction in the chest, which draws blood up into the brain.
Link | Photo: Advanced Circulatory Systems
Previously: CPR Certification at Home with the Nintendo Wii
View post:
Heart Plunging Machine