Well this is rich. NBC Bay Area reports that Thomas Langenbach, identified as a VP at SAP's Palo Alto Integration and Certification Center, has been charged with four felony counts of burglary over ill-gotten LEGOs.
Authorities say the German software engineer generated his own fake bar codes, printed stickers with them, then slapped those cheaper bar codes over more expensive kits. And then, it is alleged, he sold that hugely-discounted LEGO loot on eBay for a profit.
Stealing and reselling LEGO on eBay is a thing! Back in 2005, Mark blogged about a guy from Reno, Nevada who pulled the same scam with phony DIY bar codes, and made off with $200K worth of stuff. Back in 2008, Boing Boing covered the story of a man in West Palm Beach, Florida who ripped off $42K worth with an even simpler method. And there are more similar cases.
From the NBC Bay Area report on the Silicon Valley SAP executive's alleged crimes:
[Liz] Wylie, of Mountain View police, said Target security had captured Langenbach performing the "ticket switch" on camera, and had been onto him because the company pays very close attention to LEGO sales. "LEGOs are very popular and expensive," Wylie said.

Langenbach was formally charged with four counts of burglary totaling seven boxes of LEGOs worth about $1,000.

When police searched his home, however, Hendrickson said they found "hundreds and hundreds" of LEGO boxes inside. They also discovered that since last April, he had allegedly sold 2,100 LEGO items totaling about $30,000 on eBay using the handle "tomsbrickyard." Inside Langenbach's car, Hendrickson said, were 32 pre-made barcode stickers.
A quick search on eBay shows that the "tomsbrickyard" account said to be Langenbach's was a "Top Seller" with 99.9% positive reviews from buyers, and an eBay Feedback score of 1179.
Whatever the court ends up deciding about the man, his customers loved him.
Said one, "Excellent seller! Would definitely buy from again! A+++++"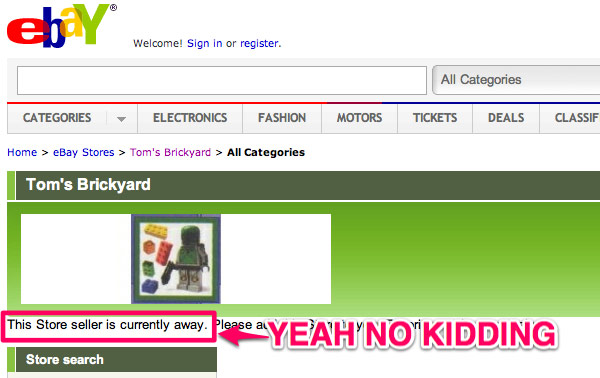 My favorite part of the report:
NBC Bay Area went to Langenbach's multimillion dollar San Carlos home on Monday, but no one answered the door, despite people being home.
More: VP of Palo Alto's SAP Arrested in LEGO Bar Code Scam.
(nbcbayarea.com via Andy Orin)
See original article:
SAP exec arrested for stealing $1K worth of LEGO with DIY bar code scam