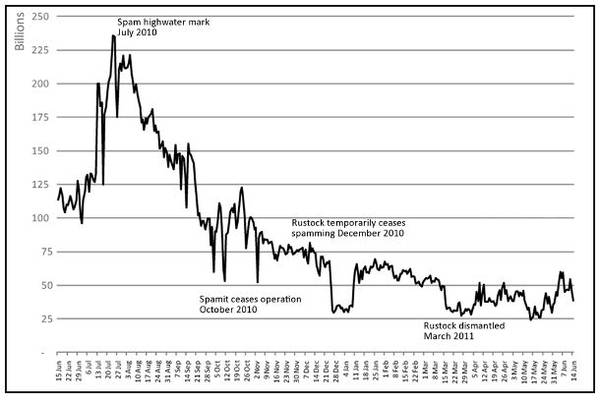 Brian Krebs looks at the remarkable drop in spam that the Internet has experienced this year (25-50 billion spams/day today, down from a peak of 225 billion spams/day last July), and at the vicious new malware that's appearing as spam-crooks get more desperate. One such vector is TDSS (AKA "TLd-4"), a rootkit that infects your computer, kicks out all the other malware running on it, and then helps hackers distribute malware. Krebs says that there's plenty of gains to be realized by attacking the financial instruments used by criminals and he's promised a series on how these work.
The evolution of the TLd-4 bot is part of the cat-and-mouse game played by miscreants and those who seek to thwart their efforts. But law enforcement agencies and security experts also are evolving by sharing more information and working in concert, said Alex Lanstein, a senior security researcher at FireEye, a company that has played a key role in several coordinated botnet takedowns in the past two years.

"Takedowns can have an effect of temporarily providing relief from general badness, be it click fraud, spam, or credential theft, but lasting takedowns can only be achieved by putting criminals in silver bracelets," Lanstein said. "The Mega-D takedown, for example, was accomplished through trust relationships with registrars, but the lasting takedown was accomplished by arresting the alleged author, who is awaiting trial. In the interim, security companies are getting better and better about working with law enforcement, which is what happened with Rustock."
Where Have All the Spambots Gone?
Original post:
Spam is way down, but new malware is really tough