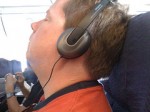 Sound therapists and stress specialists worked with the band Marconi Union to develop "Weightless", the most relaxing song ever:
Weightless works by using specific rhythms, tones, frequencies and intervals to relax the listener. A continuous rhythm of 60 BPM causes the brainwaves and heart rate to synchronise with the rhythm: a process known as 'entrainment'. Low underlying bass tones relax the listener and a low whooshing sound with a trance-like quality takes the listener into an even deeper state of calm.

Dr David Lewis, one of the UK's leading stress specialists said: "'Weightless' induced the greatest relaxation – higher than any of the other music tested. Brain imaging studies have shown that music works at a very deep level within the brain, stimulating not only those regions responsible for processing sound but also ones associated with emotions." […]

The top 10 most relaxing tunes were: 1. Marconi Union – Weightless 2. Airstream – Electra 3. DJ Shah – Mellomaniac (Chill Out Mix) 4. Enya – Watermark 5. Coldplay – Strawberry Swing 6. Barcelona – Please Don't Go 7. All Saints – Pure Shores 8. AdelevSomeone Like You 9. Mozart – Canzonetta Sull'aria 10. Cafe Del Mar – We Can Fly
Would you add any songs to this list?
Recording of the Song and Story Link -via First Things
Photo (unrelated) by Flickr user ewen and donabel
View original post here:
Scientists Develop the Most Relaxing Tune